Dalian Facts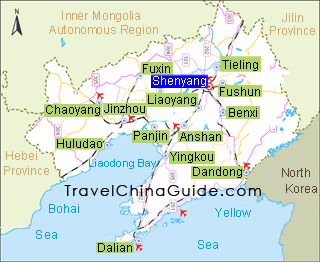 Dalian, Liaoning
Chinese Name: 大连 (dà lián)
Population: 5,949,000
Area: 12,574 square kilometers (4,855 square miles)
Location: in the southwest of Liaoning Province, northeast China
Administrative Division: 7 districts (Zhongshan, Xigang, Shahekou, Ganjingzi, Lushunkou, Jinzhou, Changhai); 1 county (Changhai); 2 county-level cities (Wafangdian, Zhuanghe)
Area Code: 0411
Zip Code: 116000

A Beautiful Coastal City with Amazing Early-20th-century Architecture
Dalian city is located in the southwest of Liaoning and borders the Yellow Sea to the east, the Bohai Sea to the west, Anshan to the north, Yingkou to the northwest and Dandong to the northeast. It is an important port, trade, industry and tourism city.

Dalian is more like a coastal city in the southern China as it does not have a freezing temperature of -30 ℃ (-22 ℉) in winter and the summer heat here is not so hot thanks to the soft sea wind. It also boasts long coastlines, fantastic sea views, sun-kissed beaches, holiday resorts and coastal parks. A variety of exotic streets and countless century-old European buildings in Zhongshan Square add more charm to Dalian. The old trams still running on the street slowly pass through the city, connecting numerous landmark squares, but also symbolizing the brand of an era. The best time to visit Dalian is from May to September. Fishing and tasting the best fresh seafood from September to October is the most satisfying thing to do.



Attractions
The impression Dalian gives to the world is of a city of lawns, squares, fountains and gardens. This is all thanks to the former mayor of the city, Bo Xilai, who initiated a 'Green Storm' - a widespread environmental campaign which brought numerous green squares, forest parks and seaside scenic spots to the city. People say it is 'A City Built in Gardens'. Running from downtown there is a 40-kilometer (25-mile) road known as Binhai Lu winding along the coastline, northeast to southwest. This coastal area is a paradise for beach vacationers. The famous scenic spots of Bangchuidao Scenic Area, Tiger Beach Ocean Park, Jinshitan Scenic Area, Dalian Forest Zoo and Xinghai Square are scattered around this region. In addition to the stunning cliffs and scenic parks, numerous places along the coastline are good for beach resort visitors and water sports lovers. Meanwhile, you can sample the authentic Dalian-style seafood in a fisherman's house at an incredibly low price. Besides, there is a large entertainment park - Discoveryland Theme Park, inside Jinshitan Scenic Area, where you can feel the excitement of adventures.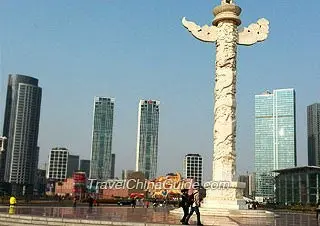 Zhongshan District, originally the colonial residential area of the Russians and containing Nicholas Square, (Zhongshan Square) is a bustling downtown area of the city. The square (Zhongshan Square) has ten avenues radiating from it and is one of the most famous squares in the city. Renmin Square, originally called Stalin Square and marked out to be the administrative center of the Russian colonists, now houses the government's financial institutions in Euro-style buildings. The old tramlines built by Japanese colonists and left behind through the ages tell the history of the city.